Newark Shredding and Records Storage
Newark Shredding & Records Storage provides New Jersey homes and business with high-quality shredding service options. Your security and trust is important to us, which is why we work hard to provide the protective measures your home and business need. All of are service providers are fully compliant with local and federal privacy laws.

About Newark Shredding and Records Storage
Newark Shredding and Records Storage connects you to several shredding services to go beyond your security requirements and always at reasonable rates.


Whether you're looking for mobile, off site, or hard drive shredding, Newark Shredding & Records Storage can help you protect your privacy.

Medical Shredding
Healthcare organizations handle the privacy and security of thousands of people in their medical records. Learn more about why its necessary for healthcare providers to protect their patients private information, and how professional shredding services can help.

Failing to follow a safe and secure disposal procedure for documents and hard drives can have serious repercussions for your business. Even household documents are vulnerable to the sneaky, greedy hands of identity thieves.

Protect your business and your family today. Newark Shredding & Records Storage provides you with fast, convenient, and reliable service options that you can trust. For more information, give us a call at (201) 844- 6237.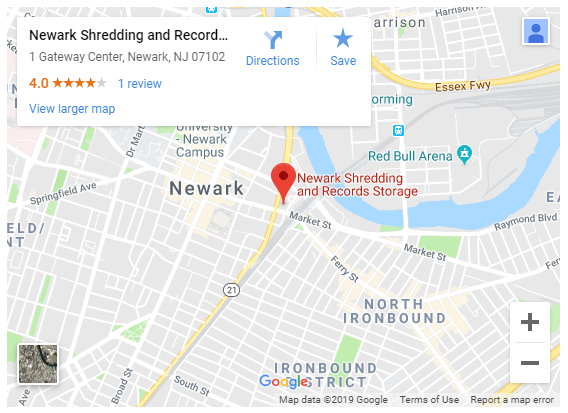 Get FREE Quotes on Shredding in Newark
Newark Shredding Services
We understand how unique each company we work with is. That's why we offer a variety of service options to meet your shredding needs. Here's a look at some of your choices:
Service Options Available in Newark
We also have scheduling options for those who are in need of an ongoing service. Our scheduling services include:
One-time Purge Service: For those who only require a shredder to stop by once.
Ongoing Service: For organizations that require weekly, monthly, or quarterly shredding services. Accumulate your documents in free, locked shredding bins between scheduled shredding visits.