Off Site Shredding in Newark
Off site shredding involves picking up materials for destruction from your Newark location for delivery to a secure plant. Trained security personnel load your files into a locked truck, guarding them until they are delivered to locked New Jersey shredding plant.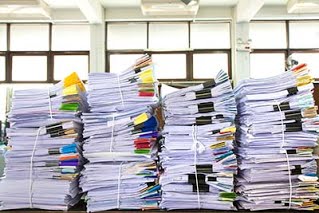 At the plant, only authorized personnel come into contact with your documents. Your documents are fed directly into our industrial shredder, capable of processing over 20,000 pounds an hour. That means your documents will be shredded as soon as arriving and efficiently.

Off site shredding is a better option for very large shredding projects, and is also extremely convenient for customers who will regularly be needing shredding services. Furthermore, this option is often cheaper and saves you precious time, as you will not be needing to witness each shredding job.

You are given a Certificate of Destruction with several details that verify your project was shredded for your records. The Certificate of Destruction also contains a list of witness signature of the personnel who watched the shredding of your documents. Off site shredding is fully compliant with local and federal privacy laws.

How Off Site Shredding Works in Newark:
Your documents are collected by trained security personnel and loaded into a secure truck.
The truck is safely transported by security personnel to a secure shredding plant.
The paper is shredded, compacted, and recycled into new paper. Your shredded documents are co-mingled so that they can't be pieced back together.
A Certificate of Destruction is provided.
Get Convenient and Reliable Shredding Services in Newark Today!
Don't put your home or business at risk by neglecting to shred private documents. Newark Shredding & Records Storage is here to help protect you. Our contractors promptly shred your documents at a secure facility, ensuring your privacy and security.
Give us a call at (201) 844-6237, or request a free quote today.