Medical Shredding in Newark
When it comes to disposing of secure medical information, it can be difficult to decide what is the best option for your practice. Not only do you have to make sure that you follow all HIPAA guidelines, but you could find yourself easily dealing with the records of thousands of patients, which is a lot to handle.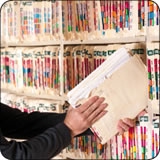 Determining how to dispose of your Newark customers' private medical information can be a difficult task. You don't want to be that health care provider on the news that just tossed out patient files and put their clients at serious risk, losing a lot of business in the process. Fortunately, we offer secure medical shredding service options so that you you can assure your business's safety with peace of mind

Depending on your shredding need, we can set it up so that a shred truck can come to your New Jersey office on a regular basis, or you can call us every few months to come and take care of everything for you. You so that you don't have to worry about bringing your documents to an off site location, making our service options convenient and time-efficient.

At Newark Shredding & Records Storage, our contractors follow all HIPAA guidelines for your company's protection. Your shredded materials will be taken to a recycling mill immediately after they are destroyed, and you'll get a Certificate of Destruction to keep for your records.

We also specialize in hard drive shredding, a convenient service in which contractors completely destroy all of your old hard drives. Files can easily be recovered on a hard drive, even if you've removed all files from them. The only way to ensure your business's security and the privacy of your patients is to destroy those hard drive for good. Professionals melt down the remaining metal for recycling and, once more, provide a Certificate of Destruction for your records.

Stay Compliant with Privacy Laws—Enlist in a Shredding Service Today!
Whether you are a health care organization or other business dealing with loads of private clientele information, hiring a professional shredding service is the best way to demonstrate your compliance with New Jersey and federal laws. Don't be foolish when it comes to your business practices—contact Newark Shredding & Records Storage today!
If your office is ready to have someone come help you with your shredding needs, just give us a call at (201) 844-6237, or request a free quote today.