Residential Shredding in Newark, NJ
Whether you work from home or simply have personal documents adding up, you need to make sure that you properly dispose of all of your documents. If any of your information were to get into the wrong hands it could be absolutely devastating.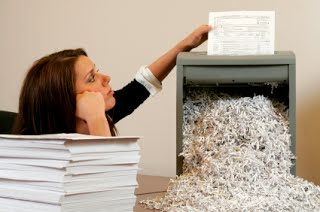 Identity theft has been on the rise for years in Newark and across the entire country. People who are victims of identity theft often have no any idea as to how it happened. It could have been caused by something as simple as having thrown their personal papers in the trash. It's commonplace to carelessly throw away bank statements, medical records, and credit card information, so thieves know to target your trash and will dumpster dive to obtain your information. For this reason, document shredding is important.

The best way to make sure that you are taken care of is to shred all of your paperwork. When you shred your secure documents, you don't have to worry about any of your information getting out because everything is completely destroyed. Luckily, here at Newark Shredding & Records Storage we are here to help make sure that you are able to shred your documents.

If you have boxes of paperwork it can be hard for you to take them to a location to have them shred and it can also get to be quite expensive. Most drop off locations in New Jersey charge around a dollar per pound for your paperwork, and you drop everything off to be shred at a later time.

Newark Shredding & Records Storage offers mobile shredding options if you want to witness your documents being destroyed, and off site shredding if you are looking for a more economical solution. And don't forget about the importance of shredding your old hard drives as well—your data is recoverable even if you've deleted all of your files. A certificate of destruction is always provided to you once the job is completed.

Protect your Newark Home and Ensure Your Peace of Mind with Convenient Shredding Today!
Shredding is now so simple, there's no reason not to have your personal documents shredded before you throw them out—just be sure to file your documents away until you're ready to shred. And, as a part of our convenient service, our contractors do the tossing for you by taking them directly to the paper mill after they are shredded to be recycled into new paper.
If you are looking for peace of mind when it comes to your private information, just give us a call at (201) 844-6237, or request a free quote today.